Asian Medicine Fair: 2:00–5:00 p.m. (Free Admission)
Asian medicine has been practiced in Asia for over three thousand years and it is still an integral part of health and healing. At the Asian Culture Expo, Chinese and Indian medicine practitioners will answer your questions about how alternative medicine works and demonstrate healing techniques such as acupressure, cupping, message techniques and more.
Ikebana Exhibition: 2:00–5:00 p.m. (Free Admission)
Asian Performances: 7:00–8:30 p.m. (Tickets Only)
Asian Art Exhibition: March 15–April 15
(Free Admission)
See more info about this event on Facebook
Application Forms (for performers, vendors, and booths)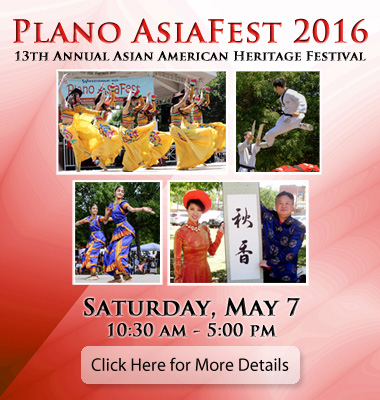 Thank you to everyone who attended the 12th Annual Plano ASIAFEST on Saturday May 2, 2015 at Haggard Park in Downtown Plano. Saturday was a bright and sunny day complete with fun filled stage entertainment for the whole family. Vendor Booths, Cultural Booths, and Food Booths provided exciting opportunities for all. Not to be left out, the festival's Children's Area hosted an Arts Booth along with activities from Kroger, The Home Depot, Texas Instruments, the Plano Symphony Orchestra, and VIBHA. Festival photos are available at this link.

As always, ASIAFEST is grateful for the support of the City of Plano, the Plano Cultural Affairs Commission, and all our sponsors! Last but not least, we thank all the attendees, volunteers, performers, and booth vendors for making this event possible over the past 12 years.


AsiaFest 2015 Photos
View pictures from photographers of the North Texas Asian Photographers Association (NTAPA), the Official Phtographer of AsiaFest 2015:



Warren Zhu
Joe Zhou
Jan Xie
Sheryl Huang
Yin Pin
Jian Dan
Ron Lin
Paul Wang