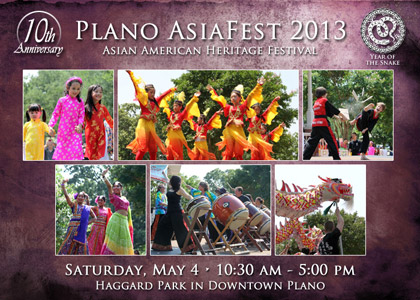 Asian Food, Fun & Music for the Entire Family
Thanks to our sponsors, attendees, performers, booth participants, and volunteers for spending a great Spring day at ASIAFEST '13. The weather was sunny and a pleasant 72 degrees. Join us next year for 11th Annual Asian American Heritage Festival! Find out more about AsiaFest »

We are pleased to announce the 10th Anniversary Tribute Award Recipients.

Click Here.

The winning Raffle Ticket for two roundtrip Coach class airline tickets from the May 4, 2013 drawing was number 2206. We will be contacting the winner. Congratulations! ASIAFEST '13 wishes to thank the generosity of our sponsor, American Airlines.


Best Asian Community Service Group Award 2012 (DFW Asian-American Citizens Council)

In the News
AsiaFest has been featured in numerous publications. Read more »
About CAAHF
The Celebrating Asian American Heritage Foundation is a non-profit 501(c)(3) organization dedicated to supporting education, arts, and cultural activities.
Learn more about CAAHF »
Contact Us
Whether you want to sponsor AsiaFest or want to volunteer, we'd love to hear from you.
Contact us today »